We're still working with
2 episodes per week
. If anyone would like to do more, please let me know.
If people want to set up actual days so they can watch it with their friends/chat/whatever, that's fine too, but I will be posting each episode title in
separate comments
to each week's entry so they can be discussed there.
I'll try to post each weeks episodes to watch every Thursday, this way it'll give everyone a solid weekend to work with and include any Aussie/Kiwi's that live in the future as well ;)
If anyone has any objections or comments feel free to post below. I can easily blast through TONS of episodes in a week, so if we feel that 2 a week are not enough we can always bump it up, but I know people do have actual lives ;)
This week's episodes are
:
1.03 "Exodus from Genesis"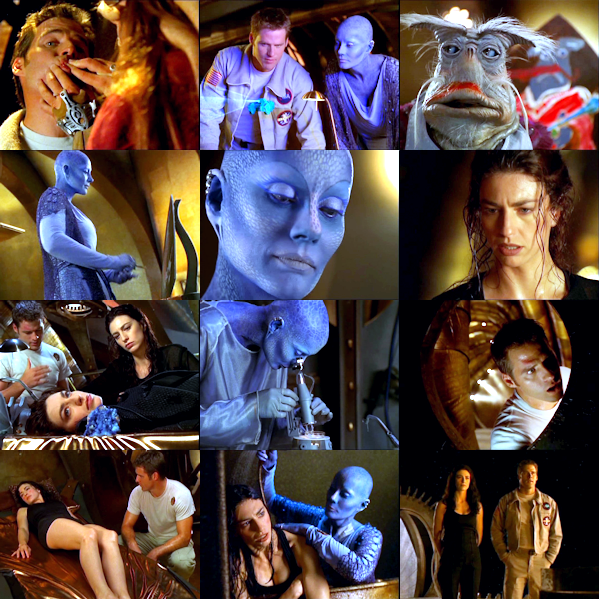 CRICHTON
: Look you're not in this alone. Everybody on board has had their minds derailed from what they thought they were or should be. We're stuck together and as long as we are we might as well be -
AERYN
: What? ..family? ..friends? I want neither.
AERYN
:
No offense Human, but what could I possibly need from you?
CRICHTON
: Manners, personality.. stock tips.
ZHAAN
: Time and patience.
CRICHTON
: Time and patience. is that always your answer to everything?
ZHAAN
: Yes, because it's always the right answer.
1.04 "Throne for a Loss"

"Am I the only species on creation that doesn't thrive on conflict?"
-Zhaan

"Soft, yes. Weak, no."
-Zhaan
"I could rip you apart! Right now, Kahalan help me, I'd enjoy it."
-Zhaan
The episodes are in the order that they were produced, not the order they were aired.



Prior Episode Re-Watch Discussions
:
1.01 "Premiere
"
1.02 "I, E.T."
Current Mood:

melancholy